The OCB conference is taking place in Toronto Wednesday, November 7 and Thursday, November 8, 2018. The seventh annual conference & suppliers marketplace will include over 1,200 of the industry's top brewers, decision-makers, thought leaders and supporters to attend this annual education, networking and sales event. With over 170+ exhibitors, it is Canada's largest craft brewing industry conference and trade show.
In the past, the OCB conference was only one day long, but this year it has recently expanded to two days to accommodate all the great exhibits. The Master Brewers Association of the Americas (MBAA) has partnered with the OCB conference to offer technical sessions. The MBAA is this year's "Education Partner", and will organize technical content sessions and speakers. Examples of education topics include quality control, import/export, regulatory systems update, packaging, production and operations, ingredients and brewing process.
"The Master Brewer's Association of the Americas, Ontario District, is pleased to participate in this new educational collaboration with Ontario Craft Brewers," says Ueli Schrader, MBAA Ontario District Technical Chair. "By organizing a day of technical sessions, we hope to bring our industry together in a new and collaborative way. United we brew!"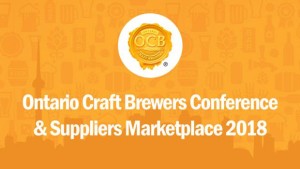 OCB conference is a great way to network and meet other brewing friends. Connect and learn with craft brewers and industry experts from across North America. For more information, or for tickets, visit the website at ontariocraftbrewers.com.