Here at Cemcorp we're all about recognizing customer achievements, but we also want to recognize our own. We are proudly celebrating our 34th birthday!
Cemcorp Ltd. started in 1853 with Henry Gough Booth, an Englishmen, opened Booth & Sons. Over the years, the company has changed hands and industries, starting in coppersmith. In 1984, former president Michael Coulter decided to focus solely on the engineering and project management-side, forming what we all know today as Cemcorp Ltd. In 1991, Mike Coulter and Steve Harkness met at Redpath, and started a long standing business relationship. Separately, Steve and Dina Harkness started a new business venture, SDH Strategies Inc., and after Steve joined Cemcorp Ltd. in 2013, SDH Strategies Inc., acquired Cemcorp. Cemcorp Ltd. continues to thrive with the support and knowledge Mike contributed during his time as senior consultant.
With all that change, it has remained even clearer that the bottom line must always remain the same: customer satisfaction; when team members enjoy what they do, client satisfaction grows. We are happy to provide engineering expertise in process design, with a technology focus.
Other reasons to celebrate: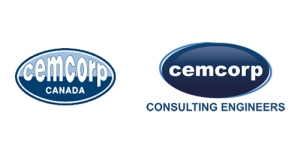 ● In 2015, Steve and Dina decided to rebrand the company.
● In 2016, the new look and website was revealed, to show the Harkness' commitment to the future.
● Installcorp Ltd. is a new associate as of April 2016 – they provide installation management services
● Food process projects increased in 2016 and 2017
● Surge of CRN services in 2017
● Shop certification services increased in 2017
● 3D design support increased in 2018
● Distillery consults remain steady
The last 5 years has shown a strong commitment to professional engineering services and quality. As a company, we are excited for our future, and look forward to growing the company.
Get in touch with us for all of your engineering needs, including in the areas of structural, electrical, controls, environmental and hazard control.