For the past 18 years, Cemcorp has been registered as an ISO 9001 company. In September 2018, the recent certification of ISO 9001:2008 will be replaced by ISO 9001:2015. In case you didn't know, ISO 9001 is an internationally recognized Quality Management System that is recognized throughout the world. As a professional engineering company, we take these type of certifications very seriously.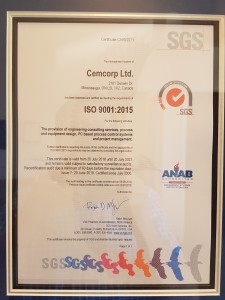 The certifications are in place to help organizations like ours ensure that we meet the needs of customers and other stakeholders, while at the same time meeting statutory and regulatory requirements related to all of our products and services. Between the past ISO 9001:2008 and the present ISO 9001:2015, there has been a greater focus on organizational risks, opportunities, changes and quality objectives. For the past five months, Cemcorp has been preparing for the recertification audit, which included a complete quality manual rewrite. With a focus on streamlined internal administration, this has totally affected how we do business, in a good way. In early June, we successfully passed our recertification and we attribute this to great effort made by our team.
The recertification has also brought the spotlight back to what matters for us and our customers – leadership and management. While training and development is one of our many offerings, this recertification has ensured that we are able to demonstrate this leadership and commitment, which we are happy to do. As well, we have taken this as an opportunity to look at ways we can improve ourselves as a company, the services we offer, and the customer experience. We look forward to continuing to provide specialized consulting in the fields of industrial processing and manufacturing, servicing the food, distillery, brewery and chemical industries.