Watching a good movie, especially in a theatre setting is always a nice way to relax, spend time with the family, or even have a special night out. For a more immersive experience, seeing a movie in an IMAX theatre can be very worth-while. Since 1968, IMAX has been one of the main innovators in the movie industry. They are famous for their 15 perf 65mm film, which is 10 times larger than regular 35mm film. Their cameras have been used to film at the ocean's bottom, and even have been mounted onto a NASCAR race car.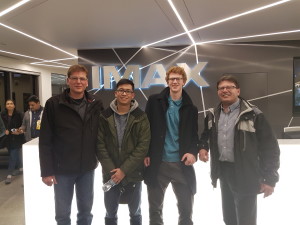 In celebration of National Engineering Month (NEM) an event was hosted by IMAX at their head office in Mississauga, Ontario showcasing the newest laser projection and immersive sound technology. Cemcorp employees attended this special event and experienced firsthand this new engineering innovation.The laser projection technology allows for increased colour saturation and produces more vibrant colours and deeper contrast than ever before seen in a theatre setting. The sound system was further enhanced to complete a surround sound with heightened definition and placement. Through film montages, audio tracks and a HUBBLE 3D presentation the attendees gained an appreciation of this new technology.
NEM is an ideal time to showcase the incredible work being done by engineers locally and around the world. This new IMAX technology is a great example of engineering and the technological innovations that result. As a profession, engineering has evolved and continues to grow leaving a trail of great advances. It inspires young and old engineers alike. At Cemcorp we strive to provide our clients with the best of our engineering abilities and expertise. We are very proud to be a part of such a great profession.
For more information about engineering events this month, check out the NEM website http://nemontario.ca/